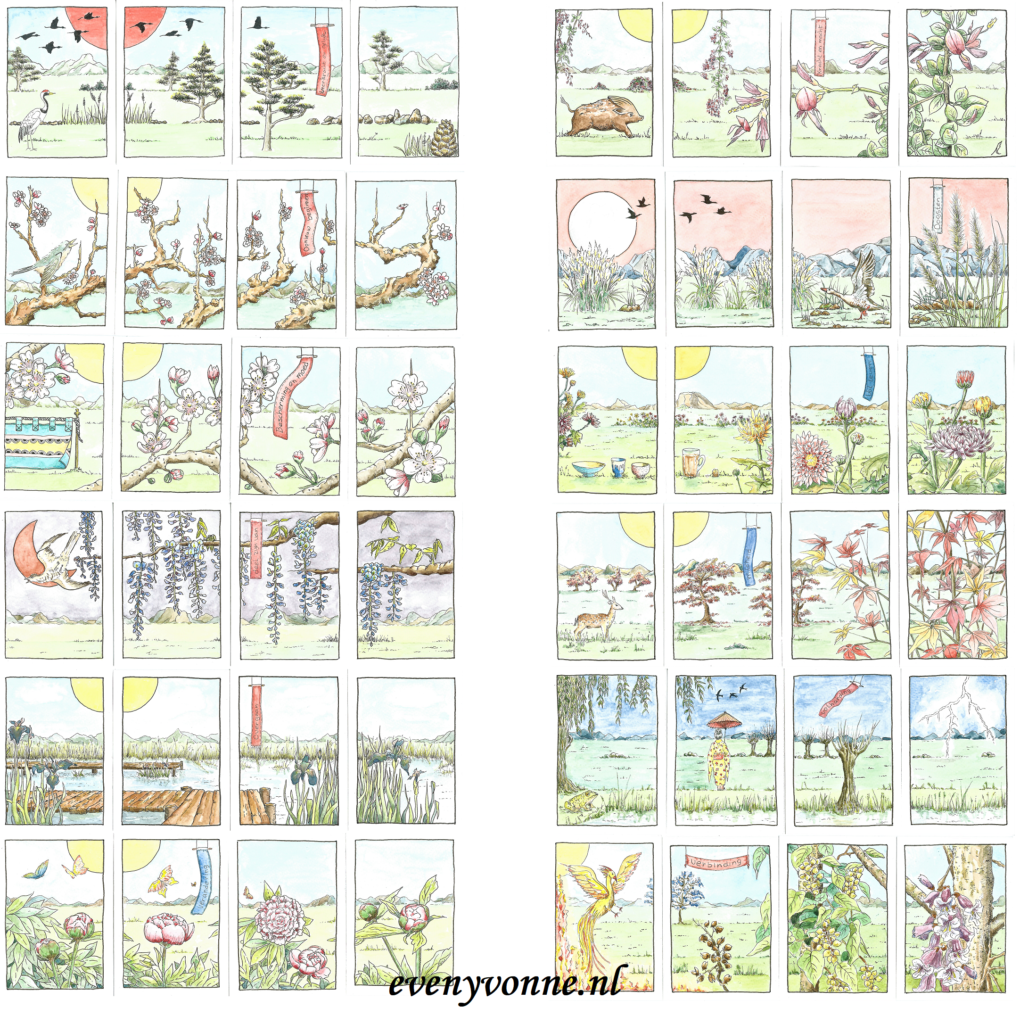 My website has not yet been fully translated in English. For having a look at my ceramics or drawings no language is required. You can have a look at my mandala's, animals, goodies, botanical drawings, landscapes. Just click. A special project to see: my hanafuda cards, with explanation in english.
Or you can read short stories, all personal accounts about everyday life with a chronic illness, RMDs, MSDs, rheumatism, reumatoid artrhitis. Stories about how a chronic illness invades every aspect of life, sometimes in small ways, sometimes greatly. I, Yvonne, have been diagnosed with reumatoïd arthritis. Over the years the number of diagnosis increased: osteoporosis, secundaire osteoarthritis and scoliosis. In my stories I generally refer to reumatoid arthritis because that causes the most problems. I have a positive outlook on life (sometimes against all odds). And generally find my own way around my physical disabilities. You can find more information about the stories if you scroll down this page. Or click on the titel (in alphabetical order) that intrigues you: Clearing the attick, Fairy tale, Fall, Its all in a name, Mammoth, My mother, Ouch, Rabbit, The odd knock, The rules, Your hand, .
All the drawings in this website are made by Yvonne. Materials used are mostly coloring pencil and black fine-liner. Please note that it is forbidden to replicatie or use texts and/or drawings without my permission.
If you want to be kept informed about new texts please let me know at info@evenyvonne.nl. I am not a native speaker, please forgive me my mistakes. Or even better: please let me know when you find any so I can correct my texts.
---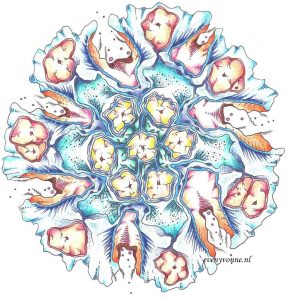 People sometimes think my family is a reconstituted family. They suppose my 14 year old son must be from a former relationship. And that my husband and I subsequently had a son together that's now six. But there is another explanation for the age gap. Indeed, there is another partner in play. Rheumatoid arthritis has a say in my marriage.
Read how that worked out and how we were forced into a desicion that resulted in eventually clearing the attick. How, why? Read it
---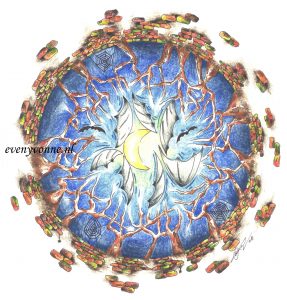 Sometimes I feel like the little mermaid. No, not Ariël from the animated movie. Fairytales as told by Disney and collegues are meant for children. They all end happily ever after and the bad guys have to do community service. But fairy tales as told or made up a long time ago were not for the tenderhearted.
Why do I feel like the Little Mermaid? And what part do Little Red Riding Hood and Snow White's stepmother play? Read all about it.
---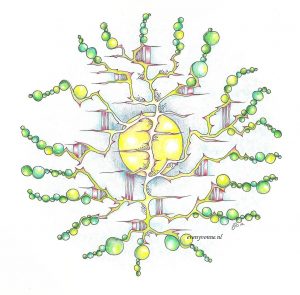 I am scared to fall. With my hands and elbows distorted by reumatoid arthritis I cannot break a fall. My affected knees and feet are fragile. Of all people, I had to fall down the stairs. All the way from top to bottom.
Read more about how I had to really, really take it slow after falling down the stairs. And how I made a drawing about my situation and found hapiness.
---

Finding a diagnosis is one of the important things done in a hospital. Your medical examinations there are based upon what your doctor expects it to be. You are adrift as long as you don't know the name to put on your dizziness, your pain, extreme fatigue or other symptoms. You will keep looking for a name, a direction. Questions remain unanswered: Is there a treatment for it? And if so what? Or do I have to learn to live with it? And if so how?
Names are important, the respresent something, express something. That is also true when dealing with illness. Read more.
---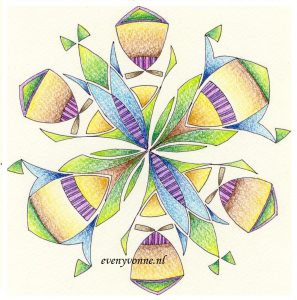 I'm an old patient with several RMDs. No, I'm not old in life years but I have lived many years with reumatoid arthritis. Scoliosis, osetoarthritis and osteoporosis were added diagnosis over time. It all started when I was ten years old, in what can now be called the MDS Stone Age.
The Stone age has passed but where are we now? And how do I now with my many years of having several RMDs fit in present day? Read
---
It began when I was a young, ten year old girl. I was hospitalized for
three months. I was ill and in pain. And I was generally mad, at the world, at my mother…..
I grew up having reumatoid arthritis. My mom played a great part in facilitating my life. How must she have felt about her little girl? Read more.
---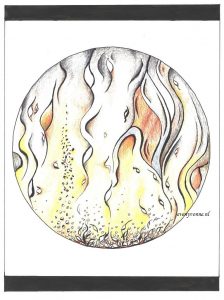 Having an RMD hurts. You can try to remedy physical pain with medication. But there is another kind of pain.
This is a small story about however thick you grow your skin, someone will find a weak spot. Read story
---
One summer we were to take care of our friends' rabbit "Little Dot" for three weeks. On day five I found it dead in its hutch. After conferring with the owners, who were on holiday in Italy, I went to the nearby woods with my two sons and some shovels in order to bury it. That turned out to be more difficult than I had thought.
How does an RMD of my reumatoid arthritis come into this? What happened next? Read more
---
One of my fellow students jokingly grabbed me tightly and he felt me instantly cringe. He was quite startled and asked me why. At that moment I first realized that being touched was a problem for me, because of my rheumatoid arthritis.
I associated touch with pain after all the fysiotherapy and medical treatments. I learned otherwise along the way. Read how
---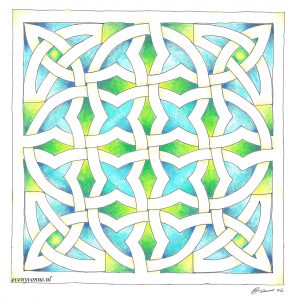 If you are ill you're expected to go to bed and, sometimes with the help of some pills, wait it out until you've completely recovered. When you're chronically ill you can wait until the cows come home. They won't and you won't recover. The rules that apply when ordinarily ill don't apply when chronically ill. What to do?
Yes, what to do? Read more
---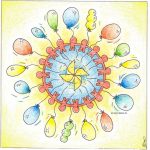 He had no clue, how much he helped me. I thoroughly enjoyed him during my pregnancy. He tickled the inside of my belly, I felt I was never alone. Really, I missed that once I gave birth to him. My reumatoid arthrits didn't trouble me, it had been a while since I had had so much energy and had felt so good as during those months being pregnant. But shortly after the delivery suddenly reumatoid arthritis reared its ugly head: I couldn't cycle any more, I could hardly walk, I badly needed support.
Read my story about how my child supported me, how we both grew and eventually both learned to stand on our own. This essay was written for the Edgar Stene Prize 2018. It won second prize in the Netherlands.